Kyle's profile
Subscriptions
Blog subscription
Use the button above to subscribe or unsubscribe to the blog. This will notify you when new blog posts appear.
Blog post subscriptions
This lists any individual blog posts you may have subscribed to, which will notify you when people post new comments. Unsubscribing from the blog using the button above will not affect these subscriptions.
Who was involved?
Following the decision to take down elective services, on the 23rd March 2020 the MIU was formed and remained in place 8am-10pm 7/7 until September 2020. 
The clinical team consisted of Consultant and ACP (physiotherapists) from MIU, physio OPD, spinal surgery, T&O Surgeons (registrars and Consultants), Sports and Exercise Medicine doctors, T&O nurses and healthcare assistants, plaster technicians. With clinical support when required from the ED team.
Plans were made with input from:
ED Clinical Director
T&O Clinical Director
T&O Trauma Lead
Consultant Physiotherapist
Advanced Practice Physiotherapist
T&O OPD Nursing team
T&O &ED Service Management teams
How did you change?
The footprint of the traditional (minors) are was taken away from ED to reduce the footfall through ED.
All patients were given the right care early in their journey to reduce repeated hospital attendances.
Click here or the attachment below to read the full Change Challenge Innovation.
When did you change?
Mar 2020 – 1st batch of ACP Physio staff identified for a training week (n=3) in the UCC processes.
June 2020 – (n=2) added – 5.0 WTE added to UCC Physio staffing of 4.4 WTE staffing at B7 & B8a.
Who was involved?
ED Clinical Director (consultant)
MSK managers
UCC clinical lead + ACP / ED management 
How did you change?
Highlighted the lack of MSK demand on their service – 20+ band 8a advanced clinicians without any patients.
Discussed with ED team the need to overstaff minor injury pathways with ACP/AHP's to allow medics to be freed up to deal with what was then the unknown.
What successes occurred?
How did you change?
We created a new pathway to enable ED juniors and ENP to have direct access to the opinion of an on-duty orthopaedic trauma consultant in the fracture clinic, during office hours. This formed the first step in an escalation plan which would increase the involvement of orthopaedic consultants in the management of traumatic injuries within the ED if the pandemic worsened. This "open door " policy allowed ED juniors and ENP to walk around to fracture clinic to discuss proper diagnosis and MX.
What challenges did you face?
Quality of referrals was initially poor, people wanting to discuss without formulating a proper plan first. Shyness from ED staff.
Getting

all

involved orthopaedic consultants to fully engage and be

always

contactable either face to face or remotely, during the agreed hours.
What successes occurred?
Early definitive management of orthopaedic injuries.
Increased use of a soft cast, removable splints, boots etc.
Break down traditional barriers.
ENP, in particular, found it very educational, skills improved
Took the pressure off ED middle grades and consultant to allow them to concentrate on covid patients.
Reduced unnecessary fracture clinic referrals. Reducing potential covid exposure for px.
Click here or the below attachment to read the full Change Challenge innovation.
What Happened?
When did you change?
In January 2019 a remote monitoring service went 'live' for patients with Rheumatoid Arthritis (RA).
Who was involved?
Multiple stakeholder groups- patients, clinicians, commissioners and a multifunctional team of designers, developers, user researchers. The change was led by a Topol Digital Fellow supported by the Health Education England Topol Digital Fellowship programme..
How did you change?
In 2017 clinicians involved in the change embarked on discovery work to explore better ways to help identify patients who could benefit from greater flexibility through remote care and continue to live well by avoiding the reminder of disease through attending unnecessary hospital appointments. Framing the significance of the regular remote capture of patient-reported outcome measures (PROMs) between appointments to support shared decision-making about when patients needed care the most was the cornerstone of the change.  An agile, multi functional team led the user centred design and delivery of a minimally viable rheumatology remote monitoring service in South East London for RA patients. 'A service designed for patient with patients'. The solution has been to implement a two way SMS channel for patients with RA which captures monthly PROMs whilst allowing for two-way SMS contact from patients between clinic visits. 
What challenges did you face?
Whilst opening multi channels of remote dialogue with patients was seen as risky it was essential to sustainable transformation of care. Limited funding led to the need to prioritise service features and a growing product backlog. There were frequent requirements to engage with Information Governance to ensure the service met data handling regulations.
What successes occurred
Design features such as automated reminders, graphical feedback on scores, a red flag system to alert to changes and an SMS template library have supported personalised care for disease flare, emotional well being and appointment deferment, accelerated in uptake by COVID-19.  Learning and sharing insights from patients' experience of the digital service has been invaluable in understanding the building blocks needed to form meaningful remote clinician-patient relationships and optimising user engagement at scale.
What Happened?
When did you change?
In March 2020, at the start of the first wave of the covid-19 pandemic
Who was involved?
The whole rheumatology multi-disciplinary team 
How did you change?
We have a well-established advice line & made several significant changes
recorded an updated answer phone message every week with general advice
drafted all the team (specialist nurses, consultants, physio, OTs) to assist in responding to calls
drew up a crib sheet covering commonly asked queries about covid-19, shielding advice and access to local support
 What challenges did you face?
supporting members of the team not used to answering queries
ensuring adequate documentation
ensuring consistent advice
What successes occurred?
demonstrated team working
drew on the different strengths and skillsets of the team
highlighted the importance of the advice line & ensuring the workload is recognised & job planned
What Happened?
Connect Health developed, piloted and subsequently rolled out a digital PMP and digital and virtual PRISM. 
Virtual Pain Management Programme
Weekly time-released documents including:
Pre-recorded videos of Pain Management Programme sessions (using 360 degree immersive film experience with clinicians, actors and people with lived experience)
Pre-recorded relaxation and mindfulness audio tracks
Information Handouts and Worksheets
Blended with 4 x pre-arranged phone calls with a specialist pain clinician to discuss the content and it's application (including a 3/12 Follow up)
PRISM (introduction to pain and practical tips and techniques)
Digital PRISM
Two pre-recorded videos of PRISM sessions delivered by specialist pain clinicians
Follow-up phone call with a specialist pain clinician
Virtual PRISM
Live group webinar with service users delivered by specialist pain clinicians
The following were collected:
patient reported experience measures (PREMs)
patient reported outcome measures (PROMs)
clinical activity (e.g. numbers of patients, numbers of sessions completed)
issues encountered by clinicians or service users, so that themes could be identified and solutions found.
Physiotherapy Pain Association
What happened?
Two online open access webinars planned and delivered in May & June 2020. 
Monthly Peer Support and Reflection Group commenced in July 2020.
The Physiotherapy Pain Association (PPA) Committee and other invited clinicians.
In the initial stages of the response to COVID-19, the committee recognised that there were significant barriers to delivery of digital consultations and wished to highlight the experiences of patients and early adopters who had attended online groups and appointments. Interaction with other networks identified that there was some apprehension and low self-efficacy in their abilities to deliver physiotherapy online.  One webinar was on group rehabilitation and another was on individual consultations. Following the webinars, we set up a monthly PPA Peer Support and Supervision Group with trained and trainee facilitators that is free and open to all PPA members. This group has patient representation and supports clinicians to engage in person centred rehabilitation. 
 What challenges did you face?
The PPA committee are all volunteers, but were very generous with their time
The PPA have one hour of paid administrator support per week
Almost 200 people attended the livestream of "Online Pain Management Groups" and the recording has over 1,400 views. 
100 people attended "Digital Consultations" and the recording has 250 views.
The monthly group has been held 3 times and is well attended.
Click here to read the narrative in full.
What happened?
Online offer planned throughout April and commenced in May
Clinical psychologists and specialist pain physiotherapists in the department; Counterparts at other London Pain Clinics via the Pain Psychologists in London (PPIL) and London Pain Physio Network (LPPN); Trust management and CW+ Charity; Willing patients
90min in-person Pain Education Session converted to 90min Zoom session. Patients then opted into a 50min Zoom assessment with Psych/Phys. Those suitable offered a 12 session virtual Pain Management Programme (vPMP) over 4 weeks
What challenges did you face? 
Digital literacy (of patients and staff); Accessibility (e.g. availability of fast enough broadband); Paucity of PMP evidence/literature for online delivery; Development of materials
Improved outcomes for patients; stakeholder involvement to reshape vPMP for subsequent cohorts
Click here to read the narrative in full
Collated online resources for people living with pain and the clinicians who support them.
What happened?
The Physiotherapy Pain Association (PPA) Committee.
Chronic pain is a complex, biopsychosocial long term condition. Physiotherapists often use supplementary materials to aid patients' understanding and facilitate behaviour change. In the initial stages of the response to COVID-19, the committee recognised the need to collate links to helpful online resources.  As some services were closed, we knew some patients would benefit from other types of support.  The services that remained open began supporting people via telehealth or online and we understood that the need for reliable online supplementary material would be greater than ever before. The links were collated by physiotherapists in pain management and a patient representative. These were then uploaded to a designated area on the PPA website.
 What challenges did you face?
There are a plethora of online resources and it was a challenge to select some over others. 
Previously, this would have been a member benefit, but the PPA were keen to make this freely available to all clinicians and their patients. 
What successes occurred?
The landing page received 500 unique page views per month April - June and continues to attract 100-200 unique page views per month. 
The 'Keeping Active' link was included in the British Pain Society and Scottish Government guidance on managing Chronic Pain during the COVID 19 pandemic.
Click here or on the attachment below to read the full narrative. 
Back To Life Online – providing a virtual combined physical and psychological treatment programme for low back pain.
What happened? 
The COVID-19 pandemic prevented our clinical team at the Royal Orthopaedic Hospital, Birmingham from continuing to provide face to face, group-based combined physical and psychological (CPPP) treatment for low back pain.
To establish a virtual online programme we brought together colleagues from
Communications
Governance
Information Technology
Administration
Patient representation
to ensure the technological and administrative transition to an online programme went smoothly and didn't impact on the high-quality clinical care provided by our team of physiotherapists, doctors and pain counsellor.
Challenges included training clinical teams to use zoom platform, training administration team in new protocols and processes, ensuring the treatment could be provided safely in patients remote locations and developing better resources for providing treatment virtually
Having completed several treatment programmes we have demonstrated that clinical outcomes and patient satisfaction scores are comparable to face to face group treatment. Patient dropout rates are also low and comparable to face to face treatment and the transition to a virtual service has been an excellent learning opportunity for the team
Click here or the attachment below to read the full narrative.
When did you change?
April 2020 due to halting of pain services and face to face peer group meetings
Who was involved?
MSK Patients, Carers and clinicians.
Camden MSK's Clinical Director set up the Zoom calls twice weekly and facilitated the meetings until the end of July. The Camden MSK's Patient Director and Camden MSK Patient Partners assisted facilitation and gave peer support to help others join.
How did you change?
Pre COVID the Patient Director was supporting and attending the patient led pain support group (PPSG) once a month face to face. The community centre was closed due to COVID restrictions, the group therefore had no where to meet physically. The whole country was on 'lockdown' during the COVID pandemic, so most patients were also home and feeling quite isolated as many services were limited as well in third sector.
There were discussions online that highlighted the issue of loneliness and knock on effect of people's mental health in particular those with comorbidities and long-term conditions.
It was decided to create a virtual peer support group for chronic pain patients during the 'shielding/lockdown' period.
Initially the group focused on the 'shielded' group but it soon became apparent others wanted to attend too. This twice a week Zoom call, which lasted for an hour at the same set time, was open for MSK patients and their carers, but also open to be attended by MSK clinicians.
Goal: To ensure we maintained contact with a group of patients who were no longer able to attend face to face support group sessions, many of whom were already lonely and isolated due to chronic pain and struggling to self- manage.
Click here or on the attachment below to read the full narrative. 
What happened?
Covid-19 lead to significant disruption in services we provide as a specialised pain management centre
Individual pain management physiotherapy waiting times were already long
Now it was unknown when we would be able to resume our normal service
We wanted to explore options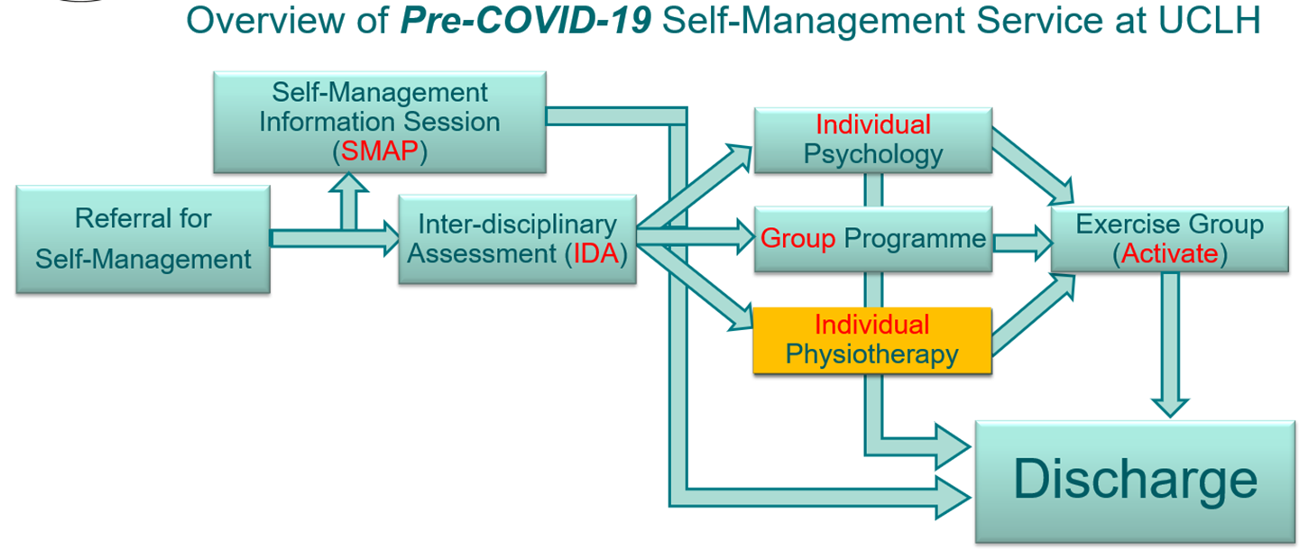 Click here or on the attachment below to read the narrative in full. 
Kyle Beacham
London, United Kingdom